Ensuring a good working life requires careful consideration and planning. This is probably what most people think. But sometimes fate plays a trick on you, and then the best thing to do is to throw away your plan and just let yourself get carried away.
Anette Nørgaard, a Nordic Startup Lead at Microsoft, describes it as "pure chance" that she landed in the IT sector in the mid-1980s. After working as an au pair in France, she made a very pragmatic decision which, against all expectations, would define her career.
"Everyone was crying out for IT skills. So I thought that if I worked in IT for a couple of years, I could save up money and then head in the direction that I really wanted, which was to become a beautician, a makeup artist," said Anette Nørgaard.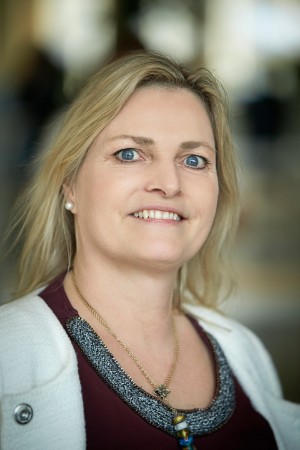 She describes how she went into the sector with the prejudice that working there would be very boring, and that the IT sector was full of boring people who sat in front of their screen all day long and had no social skills.
"But I quickly changed my attitude, because it turned out to be totally different from what I expected," she said.
The it sector is creatively demanding
Anette Nørgaard's first job was at Nordjylland Power Station and primarily involved development tasks. The power station had a number of mainframe systems which had to be maintained and operated, and later Anette Nørgaard helped replace the mainframe systems with PC programmes. This was a huge responsibility for a young woman, and Anette Nørgaard quickly found that "Wow, this isn't boring, it's actually fun".
"I was surprised that it was so creatively demanding, and that you yourself could actually make an impact. I had co-influence on things that other people needed to use, and I could make a difference. That was what drove me," she said.
In addition to being surprised by how much the IT sector required creativity, Anette Nørgaard was pleased to discover many other aspects of her job. For example, focus is on usability, communication and in many cases also ethics.
"When you address a problem, the programming is actually just a minor part. In reality, it's merely the tool that you use to give the finishing touches," she said.
Programming is the least of it
Anette Nørgaard stayed with Nordjylland Power Station for five years, and her career within the IT sector has since brought her to very different places like GlaxoSmithKline, Oracle, Miracle, Novo and now Microsoft. She has also been part of business start-ups, and has generally profited from a sector which, despite minor fluctuations and the dot-com bubble, has only grown and is increasingly becoming part of the everyday life of virtually everyone.
Therefore, Anette Nørgaard is also sad to witness that, like herself in the mid-1980s, 30 years later many people in Danish society still have the same prejudice about the IT sector. She believes that the sector as a whole needs to make the many opportunities IT has to offer more clear, and convince people that IT is not boring at all.
"We must draw a more subtle picture of what IT really is. I've come to love the IT sector, and I think that it's the coolest to be part of. And it's a shame that education programmes don't say more about the creative aspect," she said.
Anette Nørgaard entered the IT sector with a clear, technical background, and has been deeply involved in programming herself. Today, she is responsible for Microsoft's start-up activities in the Nordic countries and no longer works with development tasks. Even though during her career she has benefited from a thorough understanding of programming, she is still tempted to say that the actual programming is rather unimportant. As long as you have an understanding of what you can do with programming.
"I believe that in future robots will be doing the programming for us. So all you need to do is draw the lines. Actually, everything else around programming is what's important: understanding what IT can do, how you communicate and how you design systems so that people can use them," said Anette Nørgaard.
"Programming is the last thing to be afraid of. Programming is just the tool," she said.
A woman in a man's world
According to a survey by the Danish ICT Industry Association (IT-Branchen), there are around 24% women in the Danish IT sector, but this figure includes less technical functions such as HR, administration and similar. Excluding these functions, the male/female ratio is even more unequal.
Yet, Anette Nørgaard still thinks that the sector is "rather diverse, even though not many women work in it," but she also admits that it can be a man's world. She herself has been met with prejudice, for example at meetings with technology on the agenda. If a man is present, he is typically the person people approach.
"You can deal with this in two ways," she said, and continued:
"You can become hysterical and say that differentiating between genders is simply not good enough. But instead, I've decided to intervene in the discussions, because I can bring other aspects into the discussion than my male colleagues."
However, Anette Nørgaard believes that, as a whole, we need more women in the IT sector, and she herself is involved in the non-profit organisation, Coding Pirates, that works on improving the IT skills of children by stimulating their curiosity, inventiveness and creativity. Through this organisation, Anette Nørgaard meets just as many girls as boys, and she generally does not think that women should be put off the sector.
"There are so many things in the IT sector that would appeal to girls. And, of course, there is your own career which can be educational and fun," she said and continued.
"So we need to remove people's blinkers. We must show all the opportunities IT has to offer, and how necessary it is."